"The Mage is a magic-attacking professional. They can learn attack Abilities that allow them to do heavy damage to several targets at once. They suffer from a lower HP than the other Classes, but what they lack in that department they make up for with the ability to pound several enemies at once! And, oh boy does that feel good!"

— Filo
Mage is one of the five available Classes for the player in Unison League. Utilizing
Staves and Charms, they offer insanely high MATK and abilities that use their MATK to leave serious dents in the enemy as well as area damage.
With enough Skills, Abilities, and Class Traits, a Mage can be promoted to Sorcerer and High Sorcerer. Upon completing certain requirements, Mages can be promoted to their Advanced Classes which are the Wizard and Arcana Lord. Mages have an advantage against

Soldiers, but are vulnerable to

Lancers.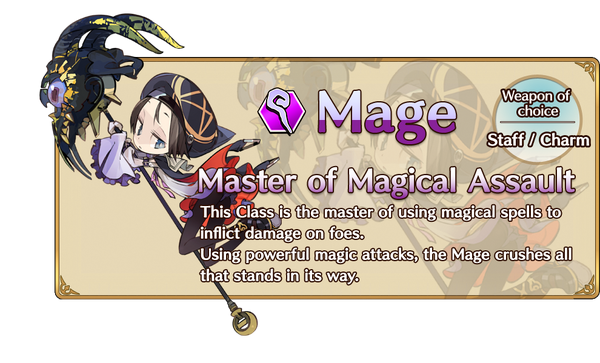 Ad blocker interference detected!
Wikia is a free-to-use site that makes money from advertising. We have a modified experience for viewers using ad blockers

Wikia is not accessible if you've made further modifications. Remove the custom ad blocker rule(s) and the page will load as expected.