This Article is about the Class. For the Monster Gear, see Lancer (Gear).

"The Lancer is the powerhouse of the group dedicated to attacking. They focus all of their energy into thrusting, thrusting, and thrusting some more until the enemy is dust! They can also bring the enemy to Break more easily than the other classes. If you choose to be a Lancer, attack like crazy!"

— Filo
Lancer is one of the five available Classes for the player in Unison League. Lancers are the physical-damage powerhouse of the game. Utilizing
Lances and
Scythes, they deal tons of damage in exchange for Defense. This class is for those who enjoy burst damage and fast-hitting skills.
With enough Skills, Abilities, and Class Traits, a Lancer can be promoted to High Lancer and Dragoon. Upon completing certain requirements, Lancers can be promoted to their Advanced Classes which are the Archdragoon and Executioner. Lancers have an advantage against
Mages, but are vulnerable to

Archers.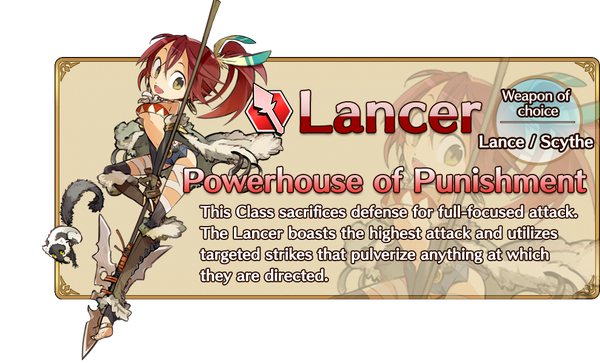 Ad blocker interference detected!
Wikia is a free-to-use site that makes money from advertising. We have a modified experience for viewers using ad blockers

Wikia is not accessible if you've made further modifications. Remove the custom ad blocker rule(s) and the page will load as expected.