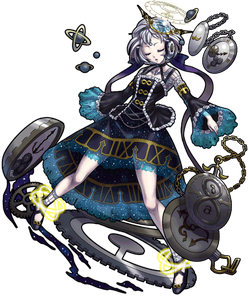 Kronos, the Great Spirit of Neutrality
Basic Info
Kronos, the Great Spirit of Neutrality, is a Great Spirit that plays a role in the world of Unison League.
Name Origin
Edit
"Kronos" is a variant of "Cronus," which is the name of the Greek Mythology Titan of Time who was the ruler of the cosmos during the Golden Age.
Appearance
Kronos appears during any Neutral/Non-Elemental unison attack. It speeds up the Cost generation and the Unison gauge fill rate. The unison attack is the only non-damaging unison.
Ad blocker interference detected!
Wikia is a free-to-use site that makes money from advertising. We have a modified experience for viewers using ad blockers

Wikia is not accessible if you've made further modifications. Remove the custom ad blocker rule(s) and the page will load as expected.