Overview
Edit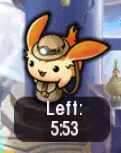 The Expedition Limimin is a special type of limimin that can be sent out by the player periodically to 'search' for rewards. It can typically be seen floating around your avatar. Tap on the Limimin in order to send it off on an expedition. Within a certain amount of time, the Expedition Limimin can return with a bag full of goodies. Listed below is a table showing what your adorable Limi can bring back:
Types of Expeditions
Edit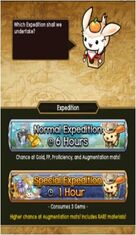 As of right now there are 2 types of expeditions Normal, and Special.
Normal expeditions are free and take 6 hours before the player can collect their rewards from the limimin.
Special expeditions cost 3 gems per expedition and take 5 minutes before the player can collect their rewards. During Special Expeditions there is a higher chance for the player to receive Augmentation Materials of higher rarity than that of the Normal expedition.
Bringing Friends
Edit
Players have the option to take a friend alongside them for a share of goods. This does not impact how much loot the player gets- it's as if the Expedition Limimin brings back extra goodies for a buddy. When a player collects their rewards from the Limi, they can view what their friend received through the Limimin.
Tips and Extra Notes
Edit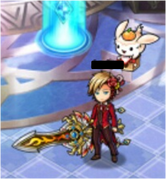 - Though the 'Special Expedition' seems much more appealing in terms of rewards, the majority of the playerbase advise against spending your gems on it. There are other things you should be spending your gems on (ie: Spawning and replenishing stamina).
- ATeam tends to dress up the Expedition Limimin for special occasions, such as Christmas and New Year's. However, this has no effect on what the Limimin brings back.
- Tapping the Expedition Limimin on the Expedition select screen will cause him to shake and say either "Hmm?" or "Do stop that..." Continuous taps will eventually cause him to say, "That's enough of that, I say!"
Ad blocker interference detected!
Wikia is a free-to-use site that makes money from advertising. We have a modified experience for viewers using ad blockers

Wikia is not accessible if you've made further modifications. Remove the custom ad blocker rule(s) and the page will load as expected.