"The Cleric is an expert healer. They learn Abilities specifically for restoring HP and treating ailments. They don't learn very many attack Abilities at all. That's why they are often called the "odd dog" Class. They're the pillar of the party that supports the group from the sidelines. Not having a Cleric in your group will force you to drastically change your battle strategy."

— Filo
Cleric is one of the five available Classes for the player in Unison League. They are the healers of the team. They often boast high MATK, above-average DEF/MDEF, and incredibly hindered ATK. Using
Books and
Relics, Clerics often do not need to worry about attacking because their main priority lies elsewhere. Their main priority is to heal and prevent debuffs and ailments.
With enough Skills, Abilities, and Class Traits, a Cleric can be promoted to Priest and Bishop. Upon completing certain requirements, Clerics can be promoted to their Advanced Classes which are the Oracle and Cardinal. Clerics neither have any advantages nor disadvantages against other Classes.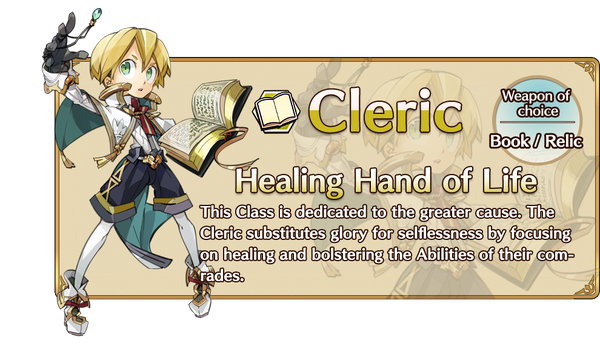 Adjustments to certain Abilities and Class Traits on the Growth Ring were made during the March 31, 2016 update.